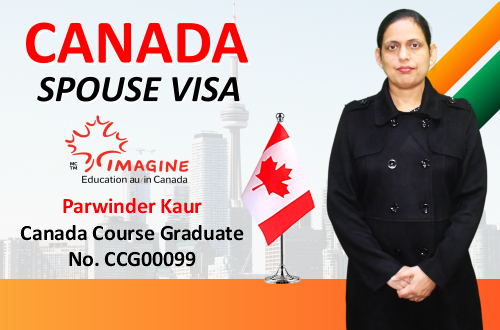 Canada student spouse visa is for partners of students with Canada study permit to join their partners. It is also called an open work permit. With Canada spouse visa an applicant gets an opportunity to work in Canada.
APPLY FOR YOUR CANADA STUDENT SPOUSE VISA WITH CANADA STUDY VISA APPLICANT
If the application of the main applicant for Canada study visa falls under SDS category the student and spouse may apply for their visas together
CONDITIONS OF SPOUSE OPEN WORK PERMIT FOR CANADA
Your spouse must be enrolled in a designated learning institute in Canada
Your spouse must have a valid student visa
Your spouse must be enrolled in a course having Post graduation work permit rights
You must have verifiable evidence of your marriage
STUDENT SPOUSE VISA CANADA REQUIREMENTS
The applicant does not need to have a job offer to apply for dependent visa Canada
Your partner needs to be enrolled in a DLI institute in Canada for study in a full time course.
You must be in a genuine relationship with your spouse
You must funds in your name to support yourself in Canada
You must have good level of establishment in your home country
OPEN WORK PERMIT CANADA DOCUMENT CHECKLIST
Applicants need to provide 4 kinds of documents to support the Canada open work permit as the spouse of the Canada student visa holder
PERSONAL DOCUMENTATION
The Passport copies, any qualification or work experience documents you may have comes under this category
RELATIONSHIP DOCUMENTATION FOR CANADA STUDENT SPOUSE VISA
As a proof of your relationship only marriage certificate may not be enough. You need to provide extensive documentation to prove that the marriage has taken place as per the custom and tradition of the place you live for the case officer to positively asses your relationship aspect. This is unique to your circumstances
FINANCIAL DOCUMENTATION FOR CANADA STUDENT SPOUSE VISA
You need to have funds of about 4 to 5 lakh. As a proof of funds only bank statement may not be enough. You need to provide evidence or explanation of any recent transactions that may have occurred to support your Canada open work permit application.
SPOUSE DOCUMENTS FROM CANADA
Documentation which shows your spouse legal status in Canada
Current enrolment letter with a designated learning institute
Address proofs of the supporting spouse in Canada
Bank Statements of the spouse in Canada
Work experience if any
CANADA OPEN WORK PERMIT SERVICES AT WEST HIGHLANDER
As one of the preferred and best Canada spouse visa consultants we provide the following services

Complete profile evaluation
Extensive counselling to help prepare customised documentation checklist
Relationship history cover letter drafting
Preparing complete and accurate Canada open work permit application

Every case is unique and a common checklist would not serve the purpose so it becomes very important that your dependent spouse visa consultant discusses your Canada open work permit case in detail and provide you with customised checklist