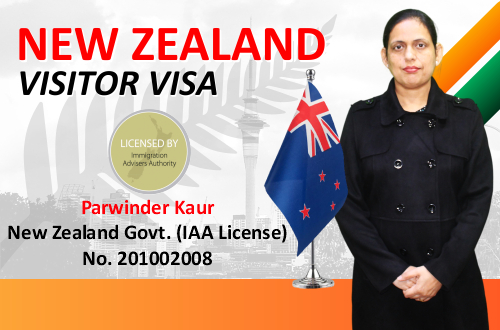 New Zealand visitor visa from India
Visit your family & friends in New Zealand. Apply 'Visitor Visa' to New Zealand.

Visitor visa lets you visit New Zealand temporarily to meet your family, friends, and your child in New Zealand. Applicants may also apply for New Zealand visitor visa for Tourism purposes.
Conditions of New Zealand visitor visa from India
To qualify for New Zealand visitor visa as an Indian applicant, you need to satisfy the case visa officer about

Purpose of visit
Resources for purpose of visit
Motivation to return to home country after purpose is over
Requirements of New Zealand visitor visa from India
Invitation from an Eligible Sponsor – The person whom you're visiting should confirm that you're invited to visit them to New Zealand.
Proof of your Identity – This is proved by providing the copy of your original and recent passport.
Health – Depending on the duration of your stay you may be required to undergo medical-examination
Character – A Character Certificate is needed if you're planning your temporary stay in New Zealand for more than 24 months.
Genuine Intention to visit New Zealand – It is necessary to provide evidence that you're a genuine visitor and there is no mal intention behind your visit
Funds – It is important that you should have funds or an acceptable sponsor to provide you expenditure for your living in New Zealand.
Onward Travel – It is essential to have money to buy ticket for your travels out of New Zealand.
Duration of New Zealand visitor visa
The duration of your New Zealand visitor visa depends on your circumstances and purpose of your visit. It could be of 3 months or more or less. If your circumstances are such that you need to travel to New Zealand frequently the duration may be more.
New Zealand visitor visa processing time from India
The New Zealand visitor visa processing time is quite fast. Applicants may expect the processing time of their visitor visa to New Zealand to be of 1 to 2 months.
Apply for your New Zealand visitor visa through LIA licensed Immigration adviser at West Highlander Immigration Chandigarh
Ms. Parwinder Kaur one of the directors of West Highlander is a LIA- Licensed Immigration Adviser based in Chandigarh. She has experience from past 16 years in providing visa-assistance for New Zealand visas to her clients. She is a Licensed Immigration Adviser certified by IAA-Immigration Advisers Authority (New Zealand Govt.). Her License Number is 201002008.

Avail Best Services in which Counselling is absolutely free. Get guidance from Licensed Immigration Adviser having 16 years of experience.