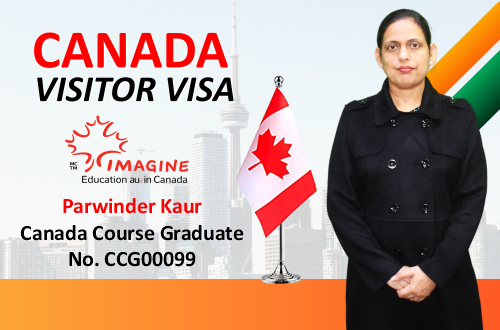 Canada Visitor visa from India
Visit your family & friends in Canada by applying for 'Visitor Visa' to Canada.

The Visitor Visa for Canada is a Temporary Resident Visa which enables you to visit Canada on temporary basis. You can apply for this visa, if you're outside Canada if you would like to meet your any family, relative or your child studying in Canada on student-visa.
Conditions for Canada visitor visa
To apply for tourist visa for Canada from India following conditions must be met
Purpose of visit
Resources for purpose of visit
Motivation to return to home country after purpose is over
Requirements of Canada visitor visa for Indians
What all you need for having visitor visa for Canada from India?
Letter of Invitation – It is important to have an invitation from the person whom you want to visit in Canada. This is very important to apply for Canada visitor visa from India.
Valid Travel Document – You'll need a valid passport which makes you eligible to travel overseas.
Ties at Home Country – It is necessary to make Immigration Officer satisfied with the fact that you have essential links back at your home country which is proved via your job, family, home, financial assets etc. Specifically, it is important to prove that you'll return to you home country after your temporary stay in Canada
Funds required for Canada visitor visa– The funds and money are most essential assets for you as you should have enough money for your visit in Canada which should cover each of your expenditures. There is a certain amount of funds required for Canada visitor visa.
No criminal or Immigration-related Convictions
Duration of Canada visitor visa
Visitors are restricted in length of stay and subject to various conditions. Generally, they are allowed to stay up to 6 months. After getting stamp of approval for visiting Canada temporary, you're eligible to be in Canada on temporary basis to meet you family and friends. The duration of Canada visitor visa could be of 10 years also. If you have frequent reasons to travel to Canada you may apply for Canada tourist visa 10 years.
Canada Visitor Visa processing time
The Canada visitor visa processing time is quite fast. Applicants may expect the processing time of their visitor visa to Canada to be of 1 to 2 months.
Apply your Canada Visitor Visa through best immigration consultant -West Highlander in Chandigarh
While you file for your Visitor Visa, it is essential to keep in mind the critical and essential points. There are many points about which you need to clarify in your application. A person who is experienced in this field is aware about all the points which one should emphasis on. At West Highlander Immigration located in Chandigarh, get to meet our Director Ms. Parwinder Kaur. She has 16 years of experience and has till date lodged hundreds of files for people who wish to go to Canada to meet their family, friends or children. Get your Canada visitor visa file lodged by experts in visa filing