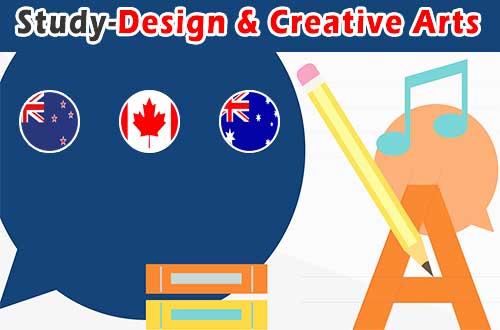 The Motto 'Simple Living, High Thinking' has long ago been shredded by the people. Today's generation look out for the things that set them apart from simple and regular. To provide anything with newness and more complexity, the main medium for it is Designing. This is an art in itself that asks creativity and artistic skills. With advancement and awareness, there are many programs available for the students to study which hone up their creativity and artistic skills through which they can design. Adjacently with development, there have been many fields which demands designing. Contemporarily, you can pursue study-design programs to take your
As West Highlander is a study-abroad consultancy, we are here to advise you to provide information and assistance to study design programs internationally in New Zealand or Canada or Australia.
NEW ZEALAND: New Zealand to study any program related to design is popular among the International Students it provides unique opportunities to the International students to give life to their creativity. The NZ Education system sets up the mark of its education to meet the demand of inconstant different design industries globally.
CANADA: This multicultural country provides you with the world leading designing programs which provide every student an international platform to make their career globally. This country has a strong and diverse section dedicated in exploring different aspects of art and design. Grab the opportunity to flourish your creativity in Canada.
AUSTRALIA: This happening country provides the perks of immense opportunities of pursuing the life as creative artist in any of your desired field. Through this you can fulfill the aesthetic needs while covering your life demands.
UK: One of the developed countries in the world which is renowned for providing world-class educational and living experience to the students. Study design program in the UK and give your creativity and artistic capability an international platform.
Germany: From Ancient Period to contemporary, Germany has been worldwide recognised for producing legendary artists. To study, Design program in this great country would be an honour moment for the student itself. Be part of Germany, by studying creative courses here.
West Highlander
To study-design programs abroad, come to West Highlander:
Located in Sector 34-A in Chandigarh, West Highlander has maintained high visa success rate. This is because of the services provided to our clients are best in terms of visa-application and providing the best counselling. The Director Ms. Parwinder Kaur has 15 years of experience and has guided plethora of students regarding studying abroad. To know more regarding the study-design programs.
Come to us because:
NEW ZEALAND – The veteran Ms. Parwinder Kaur is the Licensed Immigration Adviser for New Zealand licensed by IAA-Immigration Advisers Authority (New Zealand Govt.) License no. 201002008.
CANADA – The Director is Canada Course Graduate – CCG00099. West Highlander is the member of iCARE Canada.
AUSTRALIA – We have high success rate because of 15 years of expertise of Parwinder Kaur who is licensed by Migration Agents Registration Authority-MARA (Australian Govt.) License no. 1280308. Also, West Highlander is member of AAERI.
UK - Mr. Gurvinder Singh, Director of West Highlander is the Education UK Certified Counselor.
Germany - We are ICEF Trained Agent Counsellor (Qualification:#ITAC 0037).