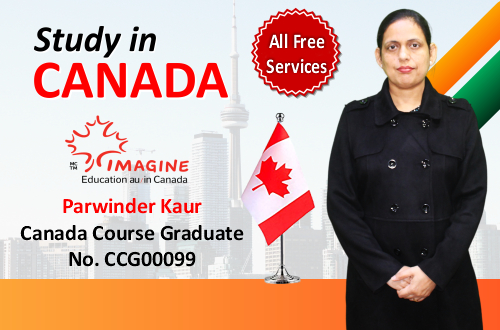 Canada is one of the most student friendly destinations for Study Abroad. It has got an excellent education system which focuses on the development of skills of the students. Along with living in one of the culturally diverse countries of the world international students enjoy number of benefits while study in Canada.
TYPES OF EDUCATION PROVIDERS IN CANADA
Study in Canada will give international students a world class experience along with advancement of their knowledge and skills. Students may choose to study in
Universities
Colleges
Private career colleges
STUDY OPTIONS IN CANADA
There is range of options to choose from for international students. Depending on their academic background and any work experience the students may have, applicants may choose to do
Diplomas
Advanced Diplomas
Bachelor's degree
Post Graduate certificates
Masters degree
Doctoral degrees
GENERAL ADMISSION REQUIREMENTS FOR CANADA STUDY VISA
FOR DIPLOMAS AND ADVANCED DIPLOMAS
School transcripts for grades 10 and 12
IELTS 6 or an equivalent score in acceptable test like PTE
FOR GRAD CERTIFICATE/PG CERTIFICATE/ PG DIPLOMA
3 years Bachelors degree
IELTS 6.5 or an equivalent score in an acceptable test like PTE
FOR BACHELORS DEGREE
School transcripts for grades 10and 12
IELTS 6.5 or an equivalent score in acceptable test like PTE
FOR MASTERS DEGREE
Four years Bachelors degree
Work experience may be pre requirement for some courses
IELTS 7 or an equivalent score in acceptable test
CANADA STUDY VISA CATEGORIES
Depending on your IELTS band score you may apply under below programs
SDS STUDENT DIRECT SCHEME CATEGORY
Following is the list of documents for SDS study visa for Canada
IELTS 6 each in all of the four modules
One year tuition fees receipt
GIC CAD 10000
Unconditional letter of acceptance from the college or University
Upfront medical
University / General category-/ non SDS category applications for Canada study visa
Following documents are required
Offer letter
Fee receipt
IELTS score card or a PTE score
Medical
Funds for your entire course duration tuition fee along with cost of living
Letter of explanation
PART TIME WORK OPTIONS
During study period international students are allowed 20 hours of part time work. During scheduled vacations they can work full time. There are temporary arrangements in place regarding the number of hours the students can work while studying. From 15 November 2022 to 31 December 2023 there is no restriction on the number of hours the students may work while study in Canada.
POST STUDY WORK VISA
Upon successful completion of their study in Canada international students are eligible to apply for Post study work visa
Duration of the Post Study Work Visa -PSW
Course Less than 8 months there is no PSW visa
Course more than 8 months but less than 2 years the PSW validity is as per length of course
Course of 2 years or more the PSW visa 3 years
WHY WEST HIGHLANDER
We at West Highlander represent many Designated Learning Institutes in Canada and provide services related to your Study in Canada application. We counsel you with the appropriate course relevant to your studies and work experience. We have 17 years of experience in dealing with Canada study visa applications.
Transparent and honest services
Free and accurate case assessment
Canada Course Graduate Qualified Consultant Ms. Parwinder Kaur CCG00099
West Highlander is a Member of iCare Canada by Canada India Education Council