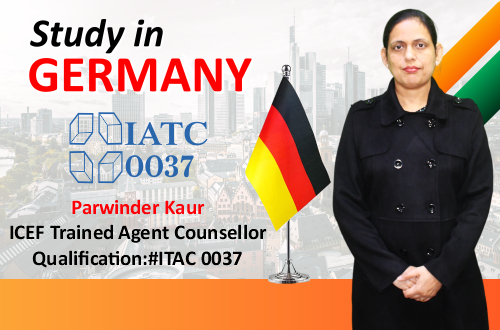 Germany – the Deutschland has long tradition of higher education. It is globally renowned for maintaining illustrious education-quality. This country also provides opportunities for the study-abroad education for Free or very tuition fee at its Public Universities with DAAD scholarships which provides help with student's living expenditure. They allow student to study with STUDY-GAP as well.
TYPES OF UNIVERSITIES IN GERMANY
These focus on science emphasising on research mainly teaching theoretical knowledge. So if you are looking for research based education these may be a good option for you.
Universities of Applied Sciences
These focus on practice. The main focus is on the practical application of the subjects.
Universities of cooperative education
These universities offer dual study programs- academic studies combined with practical/vocational training
STUDY OPTIONS
There is range of options for international students choosing to study in Germany. You need to choose right and relevant course for your study visa Germany application to be successful.
Students who have recently completed their senior secondary education can go for Bachelor's degree which is usually for 6 semesters
If you already hold a Bachelors degree you can go for Masters Programs which is usually for 4 semesters. You may specialise in a particular area
These programs have got practical orientation. In this program one combines academic studies with vocational training and company experience.
STUDY IN GERMANY FOR FREE
Public Universities charge NO Tuition Fees or Less Tuition Fees from the International Students who come to study in Germany. 12% students come from abroad out of which only 5.5% study in Private Universities.
APPLY IN PUBLIC UNIVERSITIES TO HAVE FREE EDUCATION IN GERMANY
Requirements
Undergraduate Program
Mature Student
12th Class Certificate + 1 year of study
70%
IELTS Overall 6 not less than 5.5 with SAT (for Engineering)
Postgraduate Program
4-year Bachelor Degree or 3 year Bachelor + 2 year Master Degree/1 year Diploma
70% or above in previous qualification
IELTS Overall 6.5 not less than 6.0.
Research or Doctorate
Have completed 2-year Master Program
70% in previous qualification
Work Experience (preferred)
IELTS Overall 6.5 not less than 6.0.
STUDENTS NOT MEETING ABOVE CRITERIA FOR FREE EDUCATION CAN FULFILL THEIR DREAM OF STUDYING IN GERMANY BY PAYING NOMINAL FEE
FULFILL FOLLOWING ELIGIBILITY CRITERIA
Undergraduate Program
12th Class Certificate with Certificate
55%
IELTS Overall 5.5 not less than 5.0.
Postgraduate Program
3-4year Bachelor Degree
55% in previous qualification
IELTS Overall 6.0 not less than 5.5
WORK RIGHTS
International students from European Union, Iceland, Norway, Switzerland and Liechtenstein can work for unlimited number of hours in Germany. Only if they work more than 20 hours per week they need to pay some insurance contribution.
If you are International students from other countries you may work for 120 full days or 240 half days in a year.
If you are on language or a foundation course you need permission for work.
POST STUDY WORK OPTIONS
Once you have completed higher education in Germany as an international student you may stay in Germany for 18 months to find a job relevant to your completed qualification. During this duration of 18 months you may do any work to support yourself. Once you get a relevant job fulfilling all the conditions you may apply for EU Blue Card.
You need to provide documentation to support your Germany Student visa application. After getting an offer of a place you need to document how your education and living cost would be financed in Germany. A blocked account in Germany is the preferred method to show you have money for your living cost in Germany. You require to deposit EURO 8800 in your blocked account in Germany.
WHY WEST HIGHLANDER?
To get assistance to study in Germany, we are one of the best and leading study-abroad consultancies located in Chandigarh. Choose us:
Transparent and Honest Services
ICEF Germany Accredited
IATC Qualified Counsellor
Free and Accurate Assessment
Since 2005, we are into counselling students who desire to study abroad. Reach us, to get expertise on study-abroad matters from veteran Ms Parwinder Kaur – Director of West Highlander.
TOP INSTITUTES TO STUDY IN GERMANY
BSBI
The University of Applied Sciences
Europe
New European
GISMA
International School of Management
EU Business School
BBW University
Hochschule Mannheim –University of Applied Sciences
Karlsruhe Institute of Technology
Berlin International University of Applied Sciences
Bremen University of Applied Sciences
Jacobs University
Technische Universitat Munchen
University of Gottingen
Max Planck Institute
Freie Universitat Berlin
Technische Universitat Dresden
Munich University of Applied Sciences
University of Bonn
Saarland University
Frankfurt School of Finance & Management
Technische Universitat Kaiserslautern
Universitat Hamburg
ULM University
HHL Leipzig Graduate School of Management
University of Bayreuth
WHU-Otto Beisheim School of Management
University of Stuttgart
RWTH Aachen University
HTW Berlin
Technische Universitat Berlin
TU Darmstadt
University of Hohenheim
University of Erfurt
University of Freiburg