Canada is a growing province in terms of people moving every year for economic migration. With growing number of people looking for Canada PR programs one of the widely sought after program is Express entry. Express entry 2021 offers faster processing time and Canada PR status can bring you multiple benefits of being in the country. Firstly the country offers numerous job opportunities with its growing in demand jobs from the labor market. Secondly, your family including your spouse and children can benefit from getting work opportunities and excellent education facilities too. Medical care, multicultural community, recreational opportunities and nature around are few of the reasons why one choose to a faster pathway for Canada permanent residency.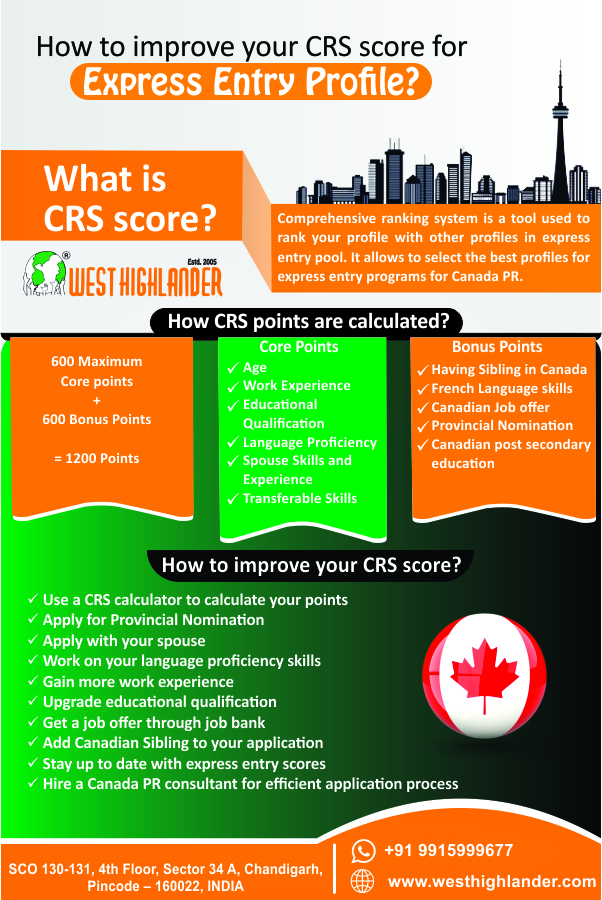 What is Express Entry 2021?
Express entry 2021 is one of the programs for Canada permanent residency. It offers faster processing time of 6 months. The three programs under express entry are federal skilled worker program, federal skilled trades program and Canadian experience class. For Indian applicants with work experience federal skilled worker program is the most promising program. As express entry is an is an economic point based program you need to score 67 points out of 100 to be eligible for Federal Skilled Worker Program. These points are allotted to you on the basis of age, educational qualification, work experience, language test score, adaptability factors and bonus points for any link to Canada, additional language skills, job from Canadian employer, provincial nomination and others. Once you have sufficient points you can create an express entry profile for which there is no cost. Your profile would be ranked against other profiles in the system using CRS or Comprehensive ranking system where points are awarded on a scale of 1200.Once you have been selected from the express entry Canada pool you could apply to IRCC for Canada PR. Your express entry profile is valid for 12 months in the system. So in case you feel you have not scored enough points you can upgrade your skills and update the profile. You could increase your express entry CRS score by enhancing your skills.
A common question received by readers is related to the common query of How to Improve Your CRS Score for Express Entry 2021? We would be discussing several of these questions in detail going forward.
What is a Good CRS score?
Few years back a good CRS score was meant to be around 450 however, with growing number of candidates applying for economic migration and the current data of 1.2 million immigrants to be welcomed in the coming years CRS score is predicted to increase. Going by the latest observation a score 460-470 has been considered to be a good CRS score however the future trends cannot be predicted. For applicants planning on applying for Canada PR the best advice is to consult your Canada PR consultant in Chandigarh or to monitor the latest trends for CRS score.
Multiple ways to improve your CRS score for Canada PR
The Comprehensive Ranking system is a points system which assesses scores of candidate express entry profile, in order to rank the candidate express entry profile against other candidates in the express entry pool during round of invitations. You are awarded CRS points for age, qualification, education level, language skills, job offers from Canada or foreign work experience.
Here are the some ways to increase your CRS score for your profile:
Language Requirement
The quickest and easiest way to increase your CRS score is to improve your IELTS score. In case you have CLB as 6 that is IELTS equivalent of – you can increase it to maximum of CLB level 9 or 10 to ensure 31-32 points
Other than this in case you leader an additional language that is French you can get an additional 24 points.
Job Offer
In case you get a job offer then you can add about 200 CRS points to your score.
Make sure the job is full time continuous paid employment offer for at least one year and you receive the offer letter for the same.
PNP program
In case you get nominated from a province under a Provincial Nominee Program then you can get a worth of 600 CRS points. The maximum CRS score is 1200 and just by PNP you will have scored 50 percent of the scores.
Now adding scores as per your eligibility to this you can easily increase your chances of getting a score above the express entry draw for Canada PR.
Sibling in Canada
For having a sibling in Canada you can always claim points if they are permanent resident or citizen in Canada.
For this additional or bonus 15 points are awarded to the applicant.
French Language Skills
In case you have knowledge of French language it is highly preferred for Canada permanent residency programs and would be appreciated by your visa officer. Canada has two national languages French and English.
For having proficiency in this language you could claim 50 points.
Post Secondary Education
In case you or your spouse holds a degree from a Canadian university you are eligible to get 30 points.
 Now depending on your current CRS score you can decide either of these categories points which you would like to add on or all six depending on your current scores.
 Latest CRS Score 2021
The current or latest CRS score 2021 was between 401-450 which were in the express entry pool to apply for Canada PR. Other than these, applicants having a score between 450-500 and 350-400 also had high number of applicants in the express entry pool.
So if you are interested in Canada PR and wish to increase your CRS score it is best to take advice of a licensed immigration consultant to increase your score for the profile. A certified immigration consultant can review your profile and provide you with genuine suggestions to boost CRS score for Canada PR. West Highlander have been efficient since last 15 years and have experienced professionals who can provide with efficient and transparent services.