Nursing is one of the most reputable and stable medical profession. Being a vital and critical role in the Healthcare industry the demand for nurses around the globe has widened. A common query among students who are or have complete GNM from India is what nursing courses in Canada can they pursue to widen their career prospects. For students there is an option of opting for B Sc Nursing courses in Canada after GNM from India. Going forward we would be giving complete detail on the same.
B Sc Nursing in Canada
B Sc Nursing is one step ahead for students who have completed their GNM diploma or who have completed their 12th with combination of medical subjects. Pursuing B Sc Nursing in Canada requires students to meet certain eligibility criteria to avail the benefit of a lifelong career.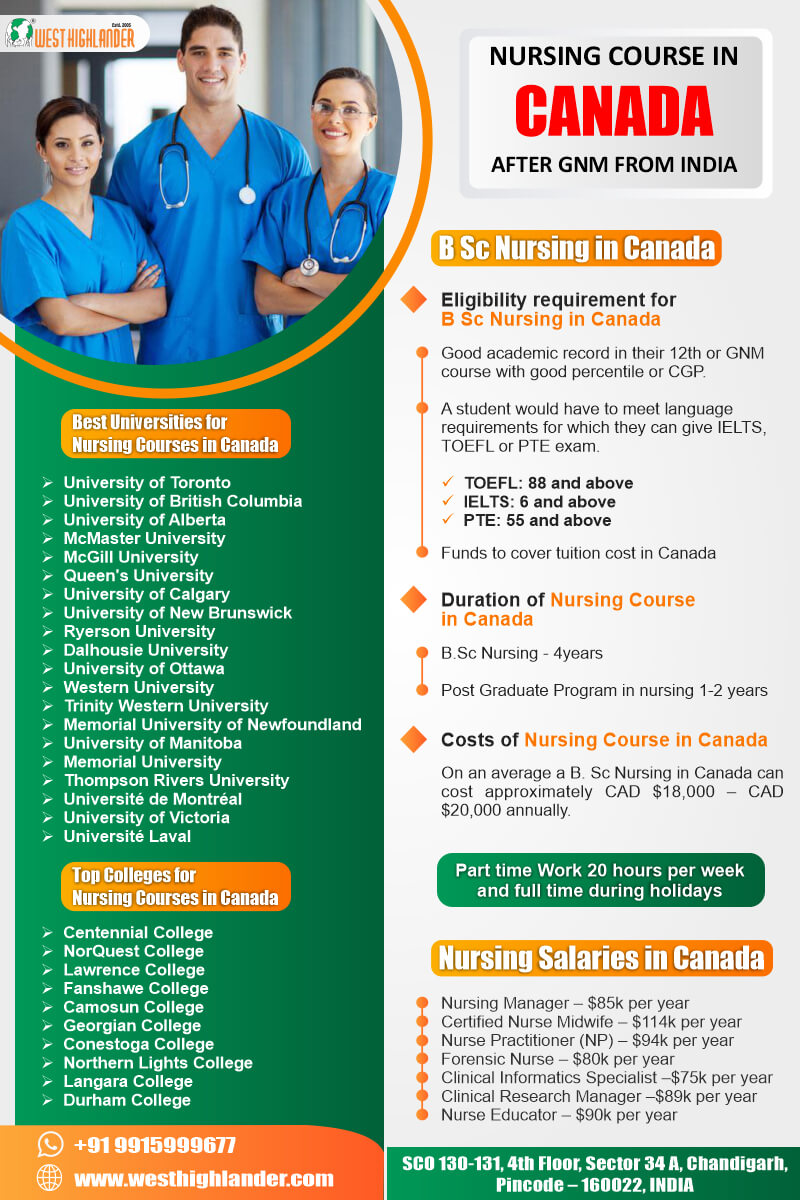 Eligibility requirement for B Sc Nursing in Canada
Applicants planning to enroll for B Sc Nursing in Canada after completing GNM from India or after 12th should:
Firstly, have a good academic record in their 12th or GNM course with good percentile or CGP.
A student would have to meet language requirements for which they can give IELTS, TOEFL or PTE exam.
TOEFL: 88 and above
IELTS: 6 and above
PTE: 55 and above
Apart from these requirements students need to meet the financial cost of tuition. For this a student needs to get a GIC of $10,000. Consult your Canada study visa consultant in Chandigarh, West Highlander for complete information and assistance on applying for nursing courses in Canada.
Duration of Nursing Course in Canada
A B.Sc Nursing course in Canada would be for four years and would prepare the student to work as professional registered Nurse. A Post Graduate Program in Canada is for 1-2 years. Further, the duration of your course could differ depending on the university or college you are opting for.
Costs of Nursing Course in Canada
The cost of nursing course in Canada depends on the university or college you are planning to opt. Along with this the nursing program should be in line with your future career prospects . On an average a B. Sc Nursing in Canada can cost approximately CAD $18,000 – CAD $20,000 annually. Further, student should keep in mind the cost of living and utility expenditures. There are several part time work opportunities for students and an international student is allowed to work 20 hours per week and extended hours during holidays.  Moreover, there are several Canadian scholarships and bursaries which one can avail if you start the admission process early.
Best Universities and Colleges for Nursing Courses in Canada
Top Universities for Nursing in Canada are:
University of Toronto
University of British Columbia
University of Alberta
McMaster University
McGill University
Queen's University
University of Calgary
University of New Brunswick
Ryerson University
Dalhousie University
University of Ottawa
Western University
Trinity Western University
Memorial University of Newfoundland
University of Manitoba
Memorial University
Thompson Rivers University
Université de Montréal
University of Victoria
Université Laval 
Top Colleges for Nursing Courses in Canada
Centennial College
NorQuest College
Lawrence College
Fanshawe College
Camosun College
Georgian College
Conestoga College
Northern Lights College
Langara College
Durham College
Nursing Salaries in Canada
Here are some of the most reputable nursing profiles and salaries that one can opt for.
Nursing Manager – $85k per year
Certified Nurse Midwife – $114k per year
Nurse Practitioner (NP) – $94k per year
Forensic Nurse – $80k per year
Clinical Informatics Specialist –$75k per year
Clinical Research Manager –$89k per year
Nurse Educator – $90k per year
West Highlander as your Canada study advisor
 Whether you are planning to enroll for Canada study program or in need of answer to your queries, West Highlander is one of the leading immigration firms actively providing solutions and successful results for last 15 years. Our registered and licensed services ensure that we offer tailor made solutions in reasonable prices with efficiency to our clientele. We understand that studying overseas or immigration is a huge decision one takes and one requires services of the most trusted name. Our efforts have resulted in thousands of successful applicants now settled in numerous countries.