Benefits of Migrating to Quebec
The number of benefits of Migrating to Quebec is innumerable. The province is centrally located in Canada and is largely French dominated. The large and profitable economy supported by Technology and the serene and natural beauty all around makes Quebec one of the unique provinces all around Canada.
As unique the province is so is the Quebec Government's immigration program specially designed keeping in mind the need of immigrants and the labor market requirements of the province.
As soon as you meet the eligibility criteria which are unique to the province and separate from the entire country and attain a Canada PR to the province of Quebec the number of benefits are multifold. Be it for an individual or for your spouse or dependent children the benefits are for all. Quebec is one of the many provinces in Canada which plans on keeping families together so the immigration programs by Quebec government are designed so to benefit the entire family.
The province of Quebec does not limit the applicants applying for Canada PR by age however if you are between 20 to 35 years of age, chances are that preference would be given to you. In case you have knowledge of French alongside English there is nothing like it.
Starting from ease of access to public infrastructure, transportation, health facilities, top quality education at marginal rates, insurance coverage, financial assistance to families having more than 2 children and services to rehabilitate new immigrants in the province the benefits are at par with the citizens of Canada.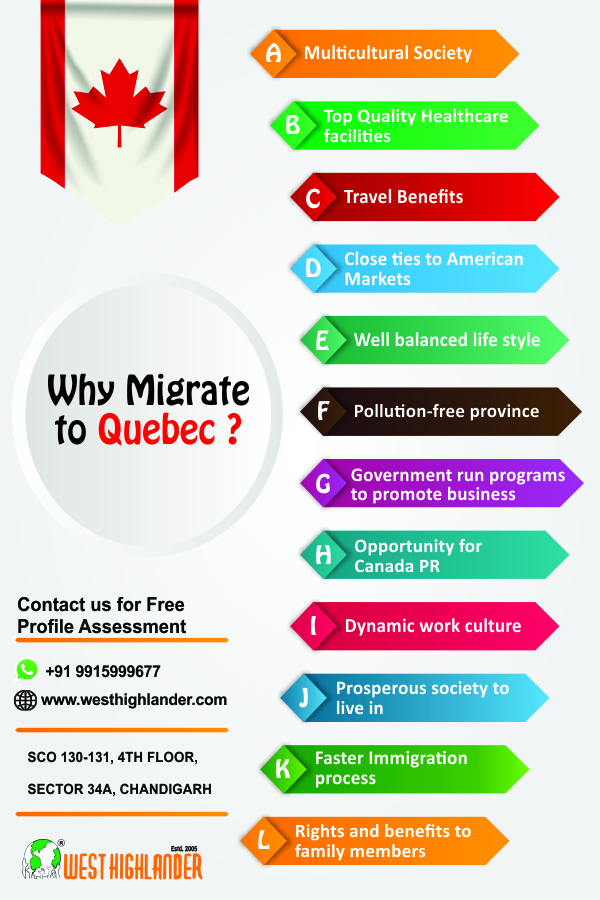 Multicultural Society
The foremost benefit for any immigrant planning to move to Quebec is that it is known for its multicultural society and music, food and nightlife that add a lot to the cultural blend. The province with its diverse cultural society is friendly towards immigrants and each year both Indian and foreign immigrants move here for Canada PR.
Top Quality Healthcare facilities
For any immigrant or Canada PR resident the health of their own and their loved ones is always a concern in a new country. Quebec's healthcare systems are at par with rest of Canada and offer high standards of healthcare benefits to its residents. The fee or charges are comparatively less for both public and private healthcare systems. Other than this insurance coverage is also provided to its residents.
Travel Benefits
Whether it is travel by highly developed public transport through Quebec  or traveling extensively abroad a Canadian passport is always an added benefit.
Close ties to American Markets
The world's largest trade relation between Canada and America offers both quality services and opportunities to work with the leading brands of both the countries. So there is no dearth of opportunities and benefits of migrating to Quebec.
Well balanced life style
With high standards of living being ensured by government and benefits of migrating to Quebec such as subsidized education, insurance coverage, healthcare benefits and public infrastructure you definitely get an easy life without much worry for day to day things. Further, with pristine nature and resources and number of recreational parks and treks you can lead a balanced life.
Pollution-free province
Quebec boasts of being one such province with high air quality index which ensures that the lifestyle of its residents is without the chaos of airborne issues.
Access to programmes by Quebec Government to promote business and technological movement.
Quebec government believes in prosperity of its citizens can bring prosperity to the province. Once you are in Quebec you get access to a number of programmes aided by the government to promote business and technological movements. These are beneficial to students, skilled workers and entrepreneurs planning on taking a new adventure.
Dynamic work culture
The work culture in Quebec boasts of being competitive yet providing perks to talented and hardworking employees. You would be challenged, rewarded and work with leading brands to enhance your career path.
Prosperous society to live in
 
The society with all its benefits being provided by the government and close knit community culture offers immigrants a safe and secure environment without the feeling of alienation once you plan on settling in Quebec.
Faster Immigration process
The immigration program for eligible applicants is faster and offers ease of Canada PR visa. This ensures that you can quickly fulfill your dream of Canada PR.
Rights and benefits to family members
Your dependent spouse and children can access to upgrade their education with leading names and excellent Canadian education system. Further they get to enjoy similar rights and benefits like you.
Opportunity for Canada PR
Once you move to Quebec Canada PR is an easy opportunity available for you. Canadian government and the province of Quebec require talent skilled workers to fulfill the employment needs of the province. With economic driven immigration programs there is ample number of opportunities for Indian talent.
So, in a nutshell there are ample number of opportunities and benefits of Migrating to Quebec. Whether you are on the lookout for study abroad Quebec programmes or looking for Canada PR programs West Highlander offer all these services with excellent and successful results achieved over last 15 years. With licensed immigration agents available at best Canada immigration consultant queries can be handled in no time. We offer free profile assessment which is beneficial to analyze the best program suitable as per your profile for your study abroad Canada or Canada PR needs.